04/07/2018
111 Days of the Federal Government
The Work of Austria's New Federal Government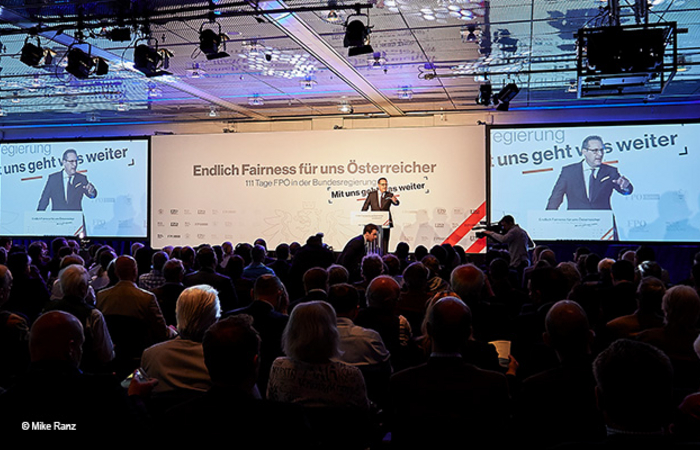 Heinz-Christian Strache, the Vice-Chancellor and Federal Minister for Public Service and Sport, reviewed the progress made in the first 111 days of the new Federal Government in Salzburg's Congress Centre. Also present were Mag. Beate Hartinger-Klein (Federal Minister for Labour, Social Affairs, Health and Consumer Protection), Herbert Kickl (Federal Minister for the Interior), Mario Kunasek (Federal Minister of Defence) and MMag. DDr. Hubert Fuchs (State Secretary in the Ministry of Finance), who all reported on the Government's work in their respective areas. Ing. Norbert Hofer (Federal Minister for Transport, Innovation and Technology) and Dr. Karin Kneissl (Federal Minister for Foreign Affairs) were with Federal President Dr. Alexander Van der Bellen on a state visit to China and were linked into the meeting by video.
Vice-Chancellor Strache said that the time since the Federal Government formed had been "busy, intense and, above all else, good for Austria" without any grace period. "In the 111 days that we have been in Government now, we've certainly come a long way. We've implemented more reforms in this short space of time than all the previous governments put together!"
Fuchs, State Secretary in the Ministry of Finance, explained the dual budget for 2018/2019. The decades-long debt policy of the Austrian People's Party and the Social Democratic Party of Austria would be replaced "for the benefit of our children and grandchildren". In the first 111 days of the Government, decisions have been made on relief to the tune of €1.8 billion. Fuchs mentioned a family bonus and relief for both low earners and the tourism industry, in addition to announcing a tax reform for 2020.
Strache and Hartinger-Klein (Minister for Labour and Social Affairs) discussed these initial major relief measures in more detail, shedding light on the funding for low earners, the minimum pensions and the minimum wage, as well as necessary structural changes within Public Employment Service Austria. The general conclusion was that "everyone who works and contributes something in our country should have more money in their wallets too."
Together with Interior Minister Kickl, Strache presented initial results in the field of security, where the Ministry of the Interior is creating thousands of new jobs and training positions for police officers, planning another police school, and working on reforms and more stringent regulations in the asylum system and migratory affairs.
Defence Minister Kunasek declared himself in favour of a strong army and a strong militia, adding that compulsory military service won't just be retained, but also incentivised, while investments would be made in infrastructure, equipment and training to counter previous governments' austerity measures "with a steady hand". Another focal point was assistance deployment to protect Austria's borders and security.
In a video message, Infrastructure Minister Hofer reported on the planned expansion of the railway network and clever investments in the Austrian Federal Railways (ÖBB), on research projects aimed at making Austria a top leader in innovation, on broadband expansion for ultra-fast internet throughout the whole of Austria, and on the removal of bureaucratic hurdles in aviation.
Federal Minister Kneissl was also linked in by video and stated that an Asian Task Force had been set up to take into account Asian countries' development into economic powers and political players, that a focal point of Austrian foreign policy was to intensify relations with Russia (a highly contentious issue), and that the bilateral relations with Turkey were to be taken to a new level through personal contact – without challenging the Austrian position on the non-accession of Turkey to the EU.
"Our mission is to bring about sustainable change. We have been reported to be the "social Austrian party". We've now got 111 days behind us. We've achieved and accomplished great things. Let's continue doing just that, then nothing will stand in the way of the FPÖ remaining in government for many years to come," concluded Vice-Chancellor Strache.
The event was jointly organised by the Austrian Freedom Party, the Freedom Party's Parliamentary Group and the FPÖ Education Institute.