11/06/2018
Ceremony "1918-2018: 100 Years of the Republic / The FPÖ in Government"
Symposium in Vienna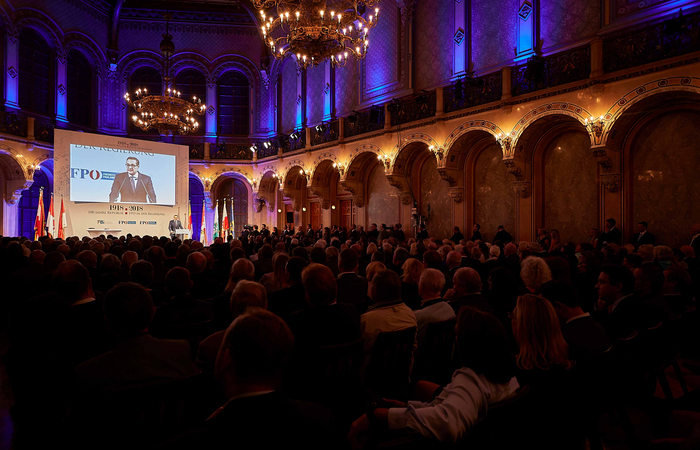 On 5 November 2018, the FPÖ Education Institute, the FPÖ and the FPÖ Parliamentary Fraction hosted the symposium and ceremony "1918-2018: 100 Years of the Republic / The FPÖ in Government" at Palais Ferstel.
Dr Walter Rosenkranz, Member of the National Council for the Austrian Freedom Party (FPÖ), welcomed the more than 500 guests in his opening speech. He went on to discuss the events of 1918 and the national liberal (third) camp which, as the strongest faction in the Provisional National Assembly, played a major role in the creation of the Austrian Republic, before addressing the current climate in 2018 and the work of the liberal members of the Federal Government who stand for change and new beginnings.
Former MEP Andreas Mölzer highlighted the contribution of the third camp to the founding of the Republic – it was no coincidence that it was Franz Dinghofer who proclaimed the Republic from the ramp in front of Parliament on 12 November 1918 – and the responsible and formative role played by prominent personalities from the third camp in Austria up to the present day.
Speaker Heinz-Christian Strache, Vice-Chancellor and Federal Party Chairman, also recalled the essential role played by national-liberal MPs in the founding of the Republic in 1918 and right up to the present day in 2018, with the Freedom Party once again playing a leading role in key areas of the Republic: "We have been a very important factor in state policy from the beginning, and continue to fulfil this role." He spoke of the government programme's liberal manuscript and of ending the strife and stagnation of recent years through the FPÖ's participation in the government: "We are the driving force and engine of reform of this government."
The programme also included interviews with Federal Minister Beate Hartinger-Klein, Federal Minister Mario Kunasek and Federal Minister Dr Karin Kneissl before the ceremony was closed with the Austrian national anthem.
Click here to read the detailed report on the website of the FPÖ.
Film "An der Wiege der Republik" (At the Cradle of the Republic)